Moulton Niguel Water District invites the public to attend a free virtual workshop to help homeowners associations save money and conserve water outdoors.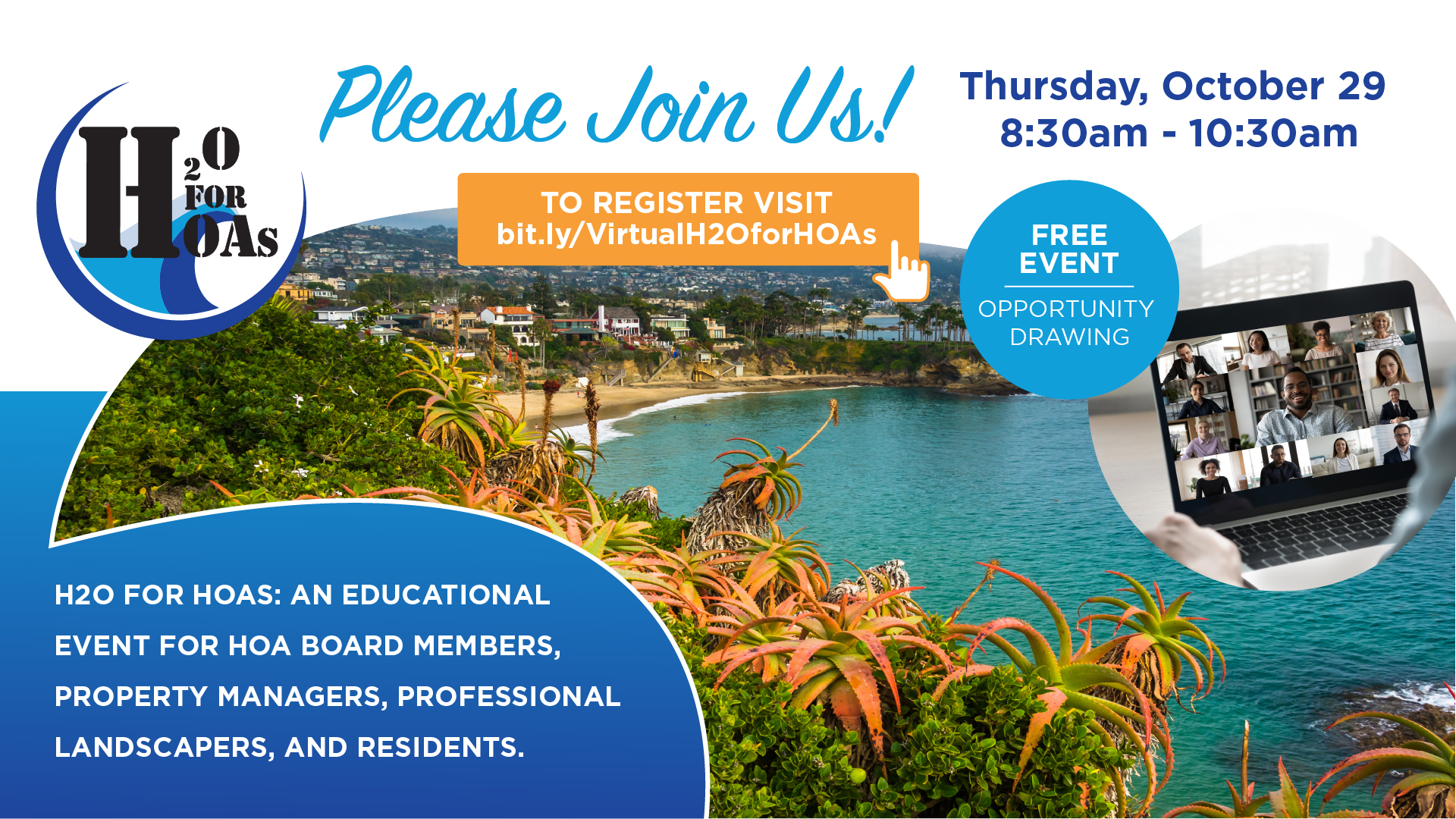 On Thursday, October 29th, from 8:30 a.m. to 10:30 a.m., the District will host its 4th annual "H2O for HOAs" event, live via Zoom webinar. Designed for homeowners associations, the free workshop will educate homeowners, landscapers, and property managers on ways to use water wisely.
"Water management is not just about using less, it's about wasting less," explains Moulton Niguel Director Kelly Jennings, who lives in Laguna Niguel. "This free virtual event will help our friends and neighbors manage water use more efficiently, particularly outdoors, where most water is used."
In partnership with 16 other cities and water districts throughout south Orange County, Moulton Niguel is leading a one-of-a-kind initiative to partner with the HOA community on water-saving programs. Approximately 75 percent of Moulton Niguel's customers live in a community with a homeowners association.
For more information, visit mnwd.com/h2o-for-hoas/.
Moulton Niguel's 4th Annual H2O for HOAs Workshop
Date: Thursday, October 29, 2020
Time: 8:30 a.m. to 10:30 a.m.
Topic: Helping the HOA Community Use Water Wisely Outdoors
Location: Online through Zoom
RSVP: Registration is required. Click HERE to register.
Presentation Topics & Speakers:
"Stormwater Best Management Practices" – Devin Slaven, City of Lake Forest
"Water Efficiency: Best Practices, Tools, and Resources" – Lindsey Stuvick, Moulton Niguel Water District
"Building Better Communities: Education, Networking and Advocacy for Common Interest Developments" – Anna Lisa Lukes, Community Associations Institute – Orange County
"FireScape – Beautiful and Smart!" – Marianne Hugo, Orange County Coastkeeper
Moulton Niguel Water District delivers safe, clean and reliable water to Laguna Niguel, Aliso Viejo, Mission Viejo, Laguna Hills, Dana Point, and San Juan Capistrano. A leader in water conservation and environmental protection, Moulton Niguel maintains the lowest average water bill in South Orange County.
 H2O for HOAs is provided in partnership by the Cities of Aliso Viejo, Dana Point, Laguna Beach, Laguna Hills, Laguna Niguel, Laguna Woods, Lake Forest, Mission Viejo, Rancho Santa Margarita, San Clemente, San Juan Capistrano, and unincorporated Orange County, as well as the El Toro, Laguna Beach County, Moulton Niguel, Santa Margarita, and South Coast water districts.