FAQs
Have a Question? We have an Answer!
Don't See Your Question Below? Give us a Call at (949) 831-2500 So We Can Help!
Many water consumption factors are accounted for on your bill including the number of days in the current billing cycle, the assumed number of residents in your home, and the square footage of your outdoor landscape that uses water. If your bill has increased drastically since last month, there are several questions we can look at to start troubleshooting!
Did you know that most water use occurs outdoors? Use the following checklist to reduce outdoor watering:
Check your sprinkler timer – the District offers a suite of tools and services to help you set your timer and irrigate efficiently
Check your timer's back-up battery – this prevents your system from returning to factory settings if there is a power interruption
Check for leaking irrigation valves and fittings – walk your yard, station by station, looking for possible irrigation leaks
Check for wet spots in your yard – consistently moist or wet patches could indicate an underground leak
Did you have a new baby, or have another family member move in?
Your budget is based on a default number of people for your home type. If your number of permanent residents is not correct on your bill, you can request a variance to your budget by filling out the form here: www.mnwd.com/variances.
Have you noticed any toilet issues? Do you have to jiggle the flush or do you hear it flush on its own sometimes?
Toilets are the #1 reason for high bills inside your house! If the flapper in your tank isn't sitting properly, it can silently swallow hundreds of gallons per day without you even realizing it. At our office we have free dye tests that you can use to check your toilets for this type of problem. You can also test it yourself using some blue food coloring (not red!). Check out the simple instructions here: www.mnwd.com/fix-a-leak
Do you have an auto-fill on your pool?
Auto-fill valves are useful for maintaining good operating conditions for your pool. However, we often have seen that these valves can also get stuck open so that they keep filling the pool, with the excess water draining quietly away. Be sure to include the valves in your regular checks and maintenance. When the weather is warmer and evaporation increases, a pool cover can save you money as well. Nearly 15,000 gallons are lost to evaporation from a standard size pool.
Do you have a water softener or other treatment device?
Some customers elect to use a water softener or other whole-house treatment device at their residence. Be aware that treatment devices that backwash need careful attention. If the device is backwashing multiple times per day, it will increase your water usage significantly.
Still having trouble determining the cause of high water use?
We're here to help! We offer one complimentary Home Savings Survey for every customer in the district. If you need some help troubleshooting a leak, want to review your outdoor watering practices, or just need some help becoming more water efficient, please fill out this form to request a Home Savings Survey and a member of the Water Efficiency Team will schedule a time to meet with you.
Every Moulton Niguel customer receives a personalized water budget each month designed to meet their water needs, which means that no matter the size of your household or yard, you should be able to remain within your water budget and pay the lowest available cost. Residential water budgets are calculated based on each customer's landscaped area of their parcel, real-time localized weather data, and the number of residents in each home, among other factors. Residential water budgets vary from month-to-month based upon the weather and the number of billing days in each cycle.
How We Calculate Your Water Budget
Residential customers have both indoor and outdoor water budgets. The infographic below demonstrates how your water budget is calculated. To learn more about the potential impact to your monthly bill, visit www.mnwd.com/billcalculator.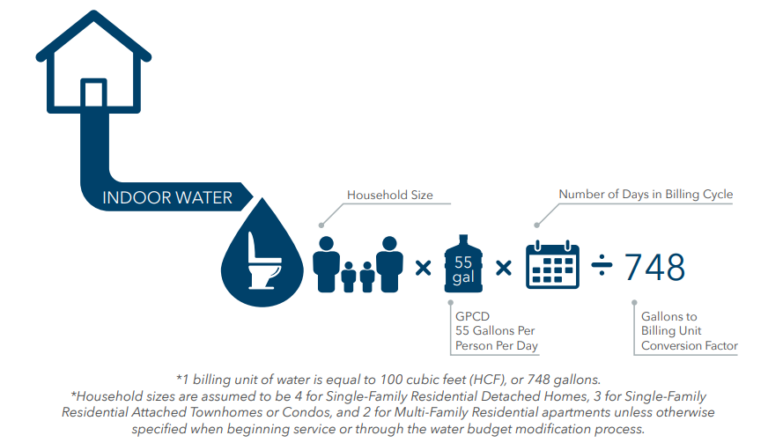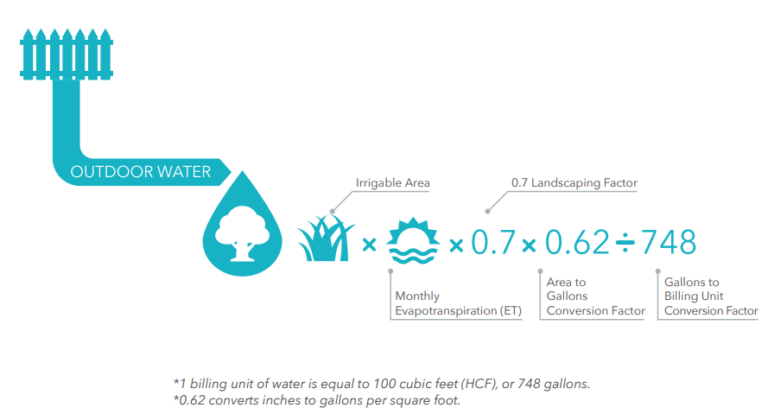 The District is required under state law to set rates to each customer in proportion to how costs are created. The rate setting process is through three steps:
Determining the revenue needed over the next ten years to maintain infrastructure and operate the system- this supports a more incremental rate plan as opposed to dramatic shifts as costs change year to year
Allocating those costs to the functional areas creating those costs
Designing rates to recover revenue in proportion to who is creating those costs
Water reliability and water efficiency program costs are allocated to the above water budget tiers because those customers who use more than what has been determined to be efficient water use (i.e., water use within their respective budget) generate the need for, and therefore the costs associated with, the water use efficiency program. The greater the demand for water, the greater the need to expand water efficiency programs or purchase new sources of supply. These incremental cost increases are therefore proportionately allocated to customers who use water within Tiers 3, 4, and 5.
The District has implemented approved changes to its rate structure to account for infrastructure investments and cost increases from its wastewater treatment and wholesale water provider.
Over half of the District's annual budget is to fund investment in infrastructure. Another 25% is to purchase water to serve the area and to treat wastewater. Only about 13% of the District's total budget is to pay for employee salaries and benefits.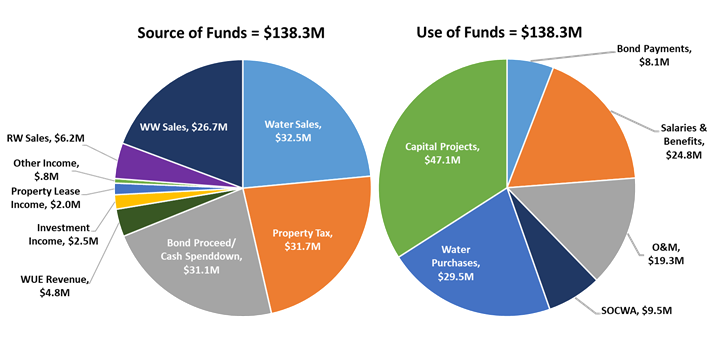 Your water budget changes each month. Your indoor budget only changes based on the numbering of days in your billing cycle. Your outdoor budget changes based on your local weather conditions that impact evapotranspiration. Evapotranspiration (ET) is a combination of the water lost through evaporation from the soil and transpiration which is the water lost by plants through their leaves. This interactive map provides reference evapotranspiration (ET0) for each of the District's microzones and shows the variation across the District's service area.
Interactive ET Map: https://gram.mnwd.com/etmap/
Zoom in, zoom out and click around to see the cumulative ET0 in inches for a time range that you select. You can see the amount of ET0 estimated for your yard last Saturday, or for the entire last month. This will help you optimize your watering schedule and irrigation system to stay within your budget!
To understand better how we calculate your water budget, you can read more here: www.mnwd.com/waterbudgetbasedrates
You can also use the California Irrigation Management Information System (CIMIS) website to obtain a reference daily ET for specific parts of Moulton Niguel's service area. Just navigate to the CIMIS website, click on the "Data" tab, select the appropriate station, and click "Run Report". If your home is closer to the coast, we suggest selecting 'Station 241 – San Clemente". If your home is inland, we suggest selecting 'Station 245 – Coto de Caza". This won't match your bill as we break our District into 110 microclimate zones, but will be close enough to keep you within your budget.
Moulton Niguel Water District is committed to testing, protecting, and delivering high-quality water to our 170,000 customers, and we are pleased to report that the drinking water provided to your homes, schools, and businesses meets or exceeds the standards required by state and federal regulatory agencies.
We conduct more than 12,000 water quality tests annually to ensure your family drinks safe, clean drinking water. Our annual water quality and consumer confidence reports provide information on the sources of our water supply, information about your drinking water, and water quality results for the previous calendar year. You can view the reports and get more information at: www.mnwd.com/ccr
If you are interested in having your water tested by an independent laboratory, you can contact any of these certified local laboratories.
The District provides potable and recycled water to approximately 172,000 customers throughout its service area. All of Moulton Niguel's potable water is purchased through the Municipal Water District of Orange County (MWDOC). MWDOC purchases its water from the Metropolitan Water District of Southern California – a regional water wholesaler that delivers water from Northern California and the Colorado River.
State Water Project
The State Water Project, also known as the California Aqueduct, transports water 600 miles from Northern California to the Central Valley and the southern portion of the state. It is owned and operated by the State of California and is the longest aqueduct system in the world, featuring 23 dams and reservoirs, 22 pumping plants that lift water to heights of 3,500 feet, and six power plants. The aqueduct is comprised of 473 miles of canals, 175 miles of pipeline and 20 miles of tunnels.
Colorado River Project
The Colorado River Aqueduct brings water 242 miles from the Colorado River through deserts and over mountain ranges to its terminal reservoir, Lake Mathews, in Riverside County. The aqueduct system includes five pumping plants that lift the water 1,617 feet.
Recycled Water
Moulton Niguel produces approximately 25% of our supply by capturing water that would normally run out to sea. The District then treats the water, and re-uses it for irrigation and other non-potable, or non-drinking, uses. Every gallon of recycled water we use saves a gallon of drinking water. In total, we save 2.7 billion gallons of water each year through recycling.
You can water any day you would like! We have a budget-based rate structure that allows you to decide when you would like to water. However, the best time to water to limit evaporation is after 7 pm and before 8 am.
To limit the amount of runoff from your sprinklers, try the cycle and soak method. Based on the watering schedule recommended by the Watering Calculator, take half of the suggested watering time for each cycle, and soak in between the two cycles. For example, if the watering calculator recommends 4 minutes of watering, water your lawn for 2 minutes, wait an hour, and then water another 2 minutes.
For more info information on how your budget is calculated, visit www.mnwd.com/waterbudgetbasedrates.
Your water meter may be replaced for a number of reasons, some of which are listed below:
The district has a Meter Change Out Program- a rotation to change out meters as they become 15-20 years old.
Meters fail over time and no longer register water passing through the meter. This occurs when the mechanical components of the physical meter do not turn properly.
For questions on why your meter is being changed, you can call our Customer Service staff at (949) 831-2500.