Sherry Wanninger
Director, Moulton Niguel Water District
Biography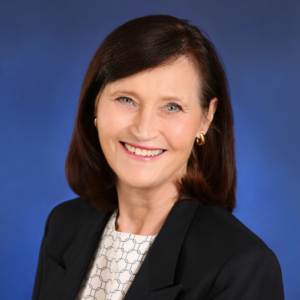 Sherry Wanninger serves as an elected Director of the Moulton Niguel Water District and represents the District on the Santiago Aqueduct Commission. Elected to her first term in 2020, Ms. Wanninger believes in prioritizing long-term water resiliency to build on the District's success at delivering safe, reliable and affordable water services to its more than 170,000 customers.
Director Wanninger brings to the Moulton Niguel Board of Directors her more than three decades of experience in finance and contracts, including 20 years at a Fortune 100 company. A Certified Professional Contract Manager, she has experience negotiating and managing multi-million-dollar contracts and preparing budgets, forecasts, long-range plans, and capital reviews.
Before joining the Moulton Niguel Board of Directors, Director Wanninger served as a member of the Moulton Niguel Water District Citizens' Advisory Committee. In that capacity, Ms. Wanninger helped promote the District's water conservation and efficiency programs to civic leaders, homeowners, and small businesses.
A 20-year-resident of Mission Viejo, Sherry is an active community volunteer, who has volunteered her time with Vacation Bible School, Habitat for Humanity, and the Orangewood Foundation.
Ms. Wanninger obtained her MBA from DePaul University and graduated from the University of Washington with a Bachelor of Arts in Business. A Chicago native, Sherry enjoys hiking, traveling, and spending time with her husband and two daughters, both graduates of Mission Viejo High School.