Moulton Niguel Water District has been honored with the 2021 Top Workplace USA award. The District was ranked as the #5 overall Top Workplace in the USA for employers with 150-499 employees as well as third in the innovation category.
"We wouldn't be the #1 Top Workplace in Orange County and the #5 Top Workplace in the USA without each and every one of our dedicated employees," said Joone Lopez, Moulton Niguel General Manager. "Every day, our employees live the values of honesty, effort, and respect as we work together as one team.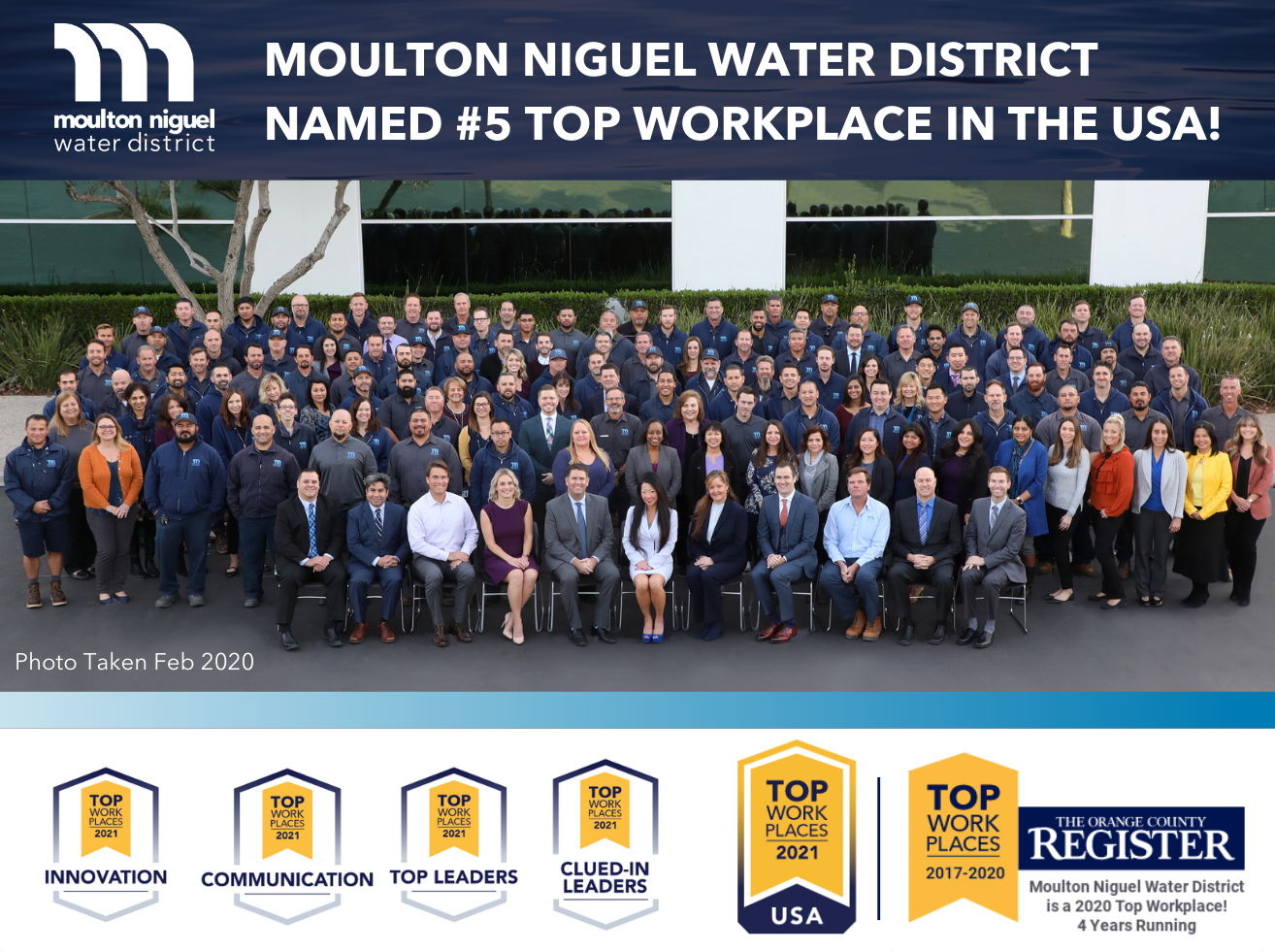 "The Moulton Niguel team, from the Board to management and every member of the staff, works hard to deliver for our customers," said Moulton Niguel Director William "Bill" Moorhead. "We're honored to be named one of the Top Workplaces in the country."
This is the first year that the Top Workplaces USA designation has been awarded. Moulton Niguel is the only utility and public agency to be ranked so high. The full list of Top Workplaces USA can be found here.
"2020 raised the bar across the board," said Dan Kessler, President, and COO of Energage. "Employees and customers are more selective than ever when it comes to who they work for and with."
The award program is administered by Energage, a human resources technology company that supports Top Workplace programs in more than 50 markets in partnership with major media outlets, such as The Orange County Register, The Washington Post, The Boston Globe, The Dallas Morning News, and Chicago Tribune. Recipients of the 2021 Top Workplaces USA award were selected based on results from Energage's anonymous, research-based employee survey that analyzed 1,100 organizations nationwide.
In December, Moulton Niguel Water District was named the Top Workplace in Orange County for 2020. It is the fourth consecutive year the District has been named a Top Workplace by The Orange County Register.
Moulton Niguel Water District delivers high-quality drinking water, recycled water, and wastewater services to customers in Laguna Niguel, Aliso Viejo, Mission Viejo, Laguna Hills, Dana Point, and San Juan Capistrano. A leader in conservation and environmental protection, Moulton Niguel maintains the lowest average water bill in South Orange County.