Coastal fire: Ice plant no foil for dry, overgrown canyons this time around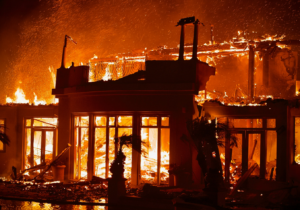 As the winds howled and sky filled with smoke Wednesday, officials asked locals to ease up on water use.
Low water pressure has hampered numerous fire responses in Southern California over the years, but officials with the Moulton Niguel Water District – primarily responsible for providing water to the fire area – said it wasn't much of a factor this time around.
Often, panicked people grab hoses and douse their homes and gardens in an effort to keep them from burning. But that drains the system of water needed for firefighting. Officials swiftly asked residents to turn off their irrigation on Wednesday, and folks largely complied.
"We were able to manage the water pressure successfully – that's something you have to contend with," said Joone Lopez, general manager of the district.
It's an intricate dance. Water systems are intricate webs of pipes and pumps and storage tanks and data systems that can monitor and manipulate the flow to where it's most needed. This fire was in the "920 zone," said Matt Collings, assistant general manager – which means the tank closest to it is 920 feet above sea level.
"That's the tank we were keeping a close eye on, pushing water up both sides of the hill to continue to feed that tank. It was really quite amazing. (Firefighters) had several different hydrants being run at the same time – I haven't seen quite so many fire hydrants being run all at once," Collings said.
Firefighters remain on scene and hot spots may flare up, but tank 920 is being replenished and nearly back to full. "If things take a turn, we're prepared to continue the response," he said.
While police and firefighters are the visible face of these disasters, water workers are first responders as well. About 20 Moulton Niguel employees were in the field Wednesday to make sure the emergency workers had water to fight the fire with, and another dozen or so were in the office managing systems and planning next steps.
"The big thing I want to stress is the importance of investment in our water system before it's needed," Lopez said. "It's moments like this that show how coordination and investment really save lives and property. There's a lot more that we can and should do. We're going to see more of these, and we need to be prepared. That's going to come at a cost, not just in money, but in participation. We're going to be challenged – by fire, by drought – and we all have to work together."