For the third year in a row, Moulton Niguel Water District has been named by the Orange County Register as one of the region's top workplaces.
In December, the District was recognized along with Marque Medical, Seven Gables Real Estate, Panda Restaurant Group, and Tait & Associates at the Orange County Register's 12th Annual Top Workplaces awards ceremony.
"We're honored to be recognized alongside Orange County's best private sector businesses as one of the region's top workplaces," said Moulton Niguel President Brian Probolsky. "Moulton Niguel will continue to cultivate a workplace culture that fosters innovation and puts our customers first."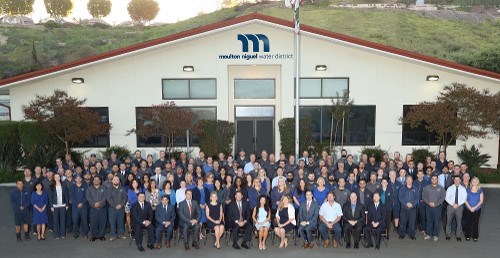 The annual survey of more than 37,000 employees at nearly 200 Orange County employers identifies private companies, public agencies and non-profit organizations that demonstrate "their excellence at work." Moulton Niguel, which claimed the top spot in 2018, placed second this year in the medium-sized business category.
The District credits its top workplace designation to an organizational culture that prioritizes exceptional customer service.
"We take great pride in providing the absolute best service to our customers," said Moulton Niguel General Manager Joone Lopez. "When you call our office, there's a real person, who answers the phone and is ready to offer assistance."
To ensure the District continues to provide high levels of service to its customers, Moulton Niguel conducts a robust training program for its employees, which includes cross-training with other departments, and encourages inter-departmental collaboration to ensure different perspectives are included in addressing customer questions.
"All our employees exemplify a positive attitude, embrace new ideas, and truly feel that they are making an impact in our community every day," said Gina Hillary, Moulton Niguel's Director of Human Resources.
In addition to its recognition as a Top Workplace in Orange County, Moulton Niguel has been recognized for its exceptional service by the Orange County Business Council, Amazon Web Services, and Government Technology.
Learn how our culture of innovation allows us to provide the best service to our customers and surrounding communities.
2019 Top Workplace Profile Video:
Moulton Niguel Water District delivers high-quality drinking water, recycled water and wastewater treatment services to customers in Laguna Niguel, Aliso Viejo, Mission Viejo, Laguna Hills, Dana Point, and San Juan Capistrano. A leader in environmental protection, Moulton Niguel maintains the lowest average bill in South Orange County.