Moulton Niguel Water District has joined forces with Sustain Southern California and the California Data Collaborative to host the combined 5th annual Water Data Summit and Water Solutions 5: Solutions for Water Resiliency on August 20-21, 2020.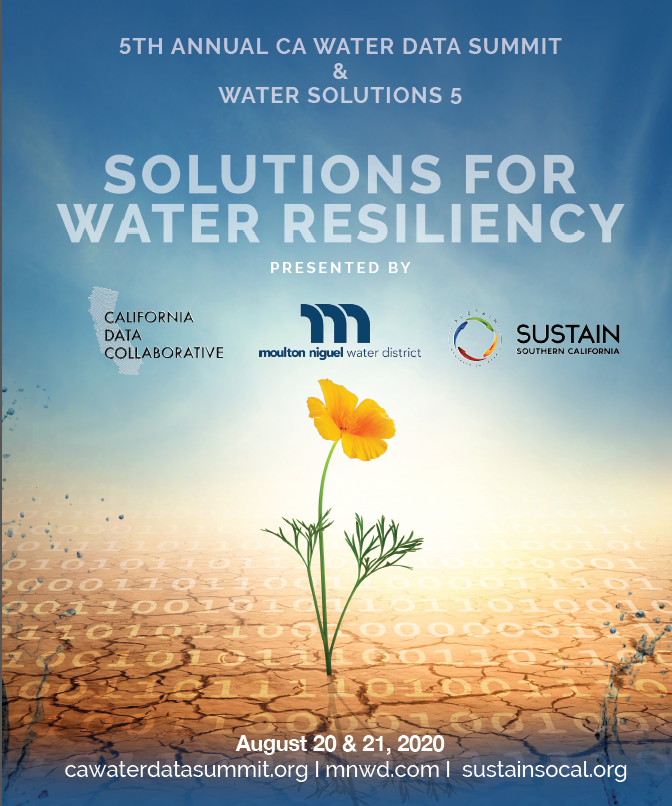 The two-day online event will feature interactive panels on how data can power California to a better water future through streamlined operations and more effective water conservation programs.
"We are using technological innovation to improve service, save money and conserve water," said Moulton Niguel President Brian S. Probolsky. "The 2020 Solutions for Water Resiliency brings together leaders in water, technology, and environmental stewardship to develop new solutions to our customers' needs.
"Water resiliency has never been more important, and the incredible adaptability of the water community has allowed the 24/7 service of safe clean water to continue in the face of a global pandemic. Technology and data are facilitating this, and the timing is great to encourage even more collaboration," said Christopher Tull, California Data Collaborative Project Manager.
Adds Scott Kitcher, President and CEO of Sustain SoCal, "The focus on water resiliency in this conference is highlighted by examples of fantastic public / private partnerships. California's innovators, investors and leadership are among the most recognized in the world; we're very happy to see this rapidly growing interest in water and its technology."
This year's event will include panels and working sessions focused on:
Financial Resiliency: Planning for the Future
Water Workforce of the Future
Data-Driven Regulatory Compliance
Trends in Agriculture
Data Collection
Perspectives from Water Investors
For more information and to register for this year's conference, please visit https://www.cawaterdatasummit.org/.
About Moulton Niguel Water District : Moulton Niguel Water District delivers high-quality drinking water, recycled water and wastewater services to customers in Laguna Niguel, Aliso Viejo, Mission Viejo, Laguna Hills, Dana Point, and San Juan Capistrano. Moulton Niguel co-founded the California Data Collaborative, which now represents 21 million Californians, focused on leveraging data and technology to enhance statewide water management policies.
About The California Data Collaborative: The California Data Collaborative brings together cities, water retailers, and land planning agencies to enhance the state's water data infrastructure. CaDC develops tools and research with freely available open-source technology and globally respected research institutions including Stanford, UCLA, USC, UC Riverside, and UC Davis.
About Sustain Southern California: Sustain Southern California (Sustain SoCal) accelerates cleantech economic growth and sustainability initiatives through innovation, collaboration and education.