In its water quality report covering calendar year 2018, Moulton Niguel Water District reports that the drinking water provided to homes, businesses, and schools in its service area meets, and in many cases, exceeds the standards required by state and federal agencies.
"Reliable access to safe and clean drinking water remains our top priority," said Moulton Niguel Water District President Brian Probolsky. "We're proud to deliver high-quality water at the lowest rates in South Orange County."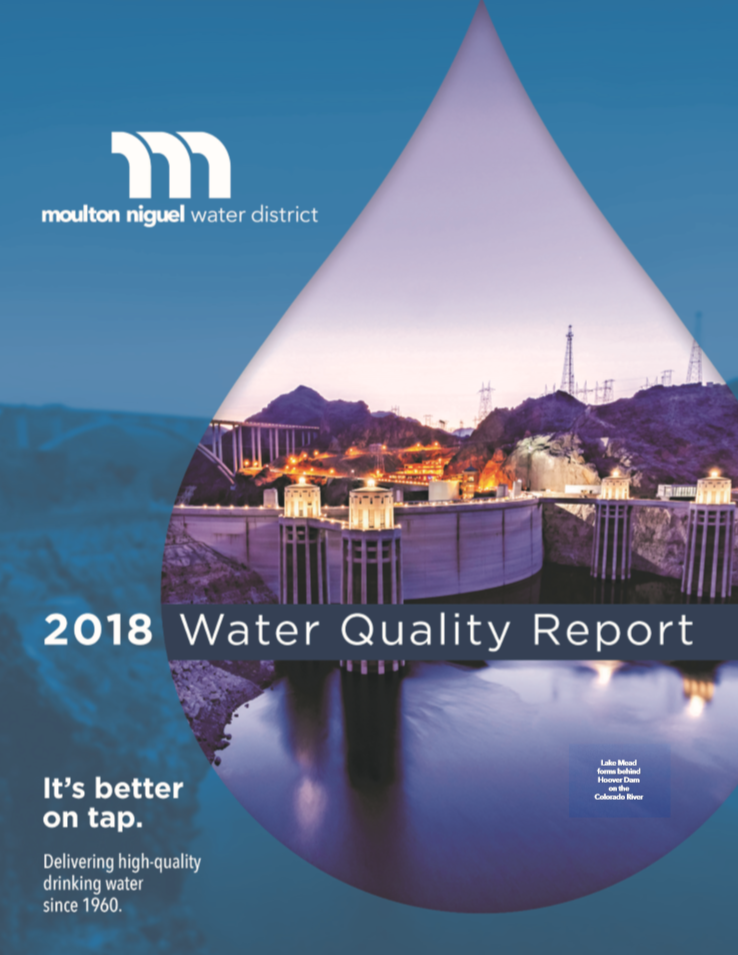 Every year, water providers throughout California are required to publish a report with water quality findings. As required, the Consumer Confidence Report uses drinking water quality standards set by the United States Environmental Protection Agency and the California State Water Resources Control Board. The comprehensive report provides information on drinking water quality testing and results, sources of our region's water supply, and illustrates how it travels from hundreds of miles away to reliably get to our customers.
"Moulton Niguel Water District is committed to testing, protecting, and delivering high-quality water to every home, school and business in our service area," said Joone Lopez, Moulton Niguel's General Manager. "We never take water quality for granted, and that's once again reflected in this year's water quality report."
The District ensures safe and reliable water service by reinvesting millions of dollars in ratepayer funds back into its water infrastructure system. In addition to proper maintenance of its system, Moulton Niguel monitors the water quality daily at all sources, reservoirs, and throughout the distribution system to ensure customers have access to clean drinking water whenever they need it.
Additionally, under the State Water Resources Control Board's Lead Testing in Schools Program, Moulton Niguel worked with its local schools to conduct lead testing. Every sample met state and federal drinking water standards.
Sourced from the Colorado River and the State Water Project, Moulton Niguel's water is supplied by the Metropolitan Water District of Southern California. Before it is delivered to its 170,000 customers, Moulton Niguel's water is treated at the Diemer Filtration Plant in Yorba Linda and the Baker Water Treatment Plant in Lake Forest.
A complete copy of the 2018 Moulton Niguel Water Quality Report is available online at mnwd.com/ccr. To request a paper copy, please contact Moulton Niguel at (949) 831-2500 to arrange for mailed delivery. Copies of the report are also available at the District offices located at 27500 La Paz Rd., Laguna Niguel.
Moulton Niguel Water District provides high-quality drinking water, recycled water and wastewater treatment services to customers in Aliso Viejo, Laguna Niguel, Laguna Hills, Mission Viejo, San Juan Capistrano and Dana Point. A leader in environmental protection, Moulton Niguel maintains the lowest average bill in South Orange County.