We were thrilled to host our first series of water education field trips with Aliso Viejo Middle School! Over 30 students over the course of 2 days experienced an educational presentation followed by an interactive field trip to the Aliso Creek where they were able to learn directly about the benefits of water efficiency to improve water quality in our region's watersheds.
The field trips are available through a first-of-its-kind water education partnership with OC Coastkeeper who is helping to bring their W.H.A.L.E.S. Program to elementary and middle school students in the Moulton Niguel Water District service area. Coastkeeper's W.H.A.L.E.S. program, which stands for Watershed Heroes: Actions Linking Education to Stewardship, was developed as a way to make it easier for students to understand water efficiency and sustainability. Through this educational program, students are able to engage in in-class presentations and local field trips that will teach students the importance of water quality, water efficiency and global sustainability.
Students Get Their Feet Wet Learning about Water Efficiency and Water Quality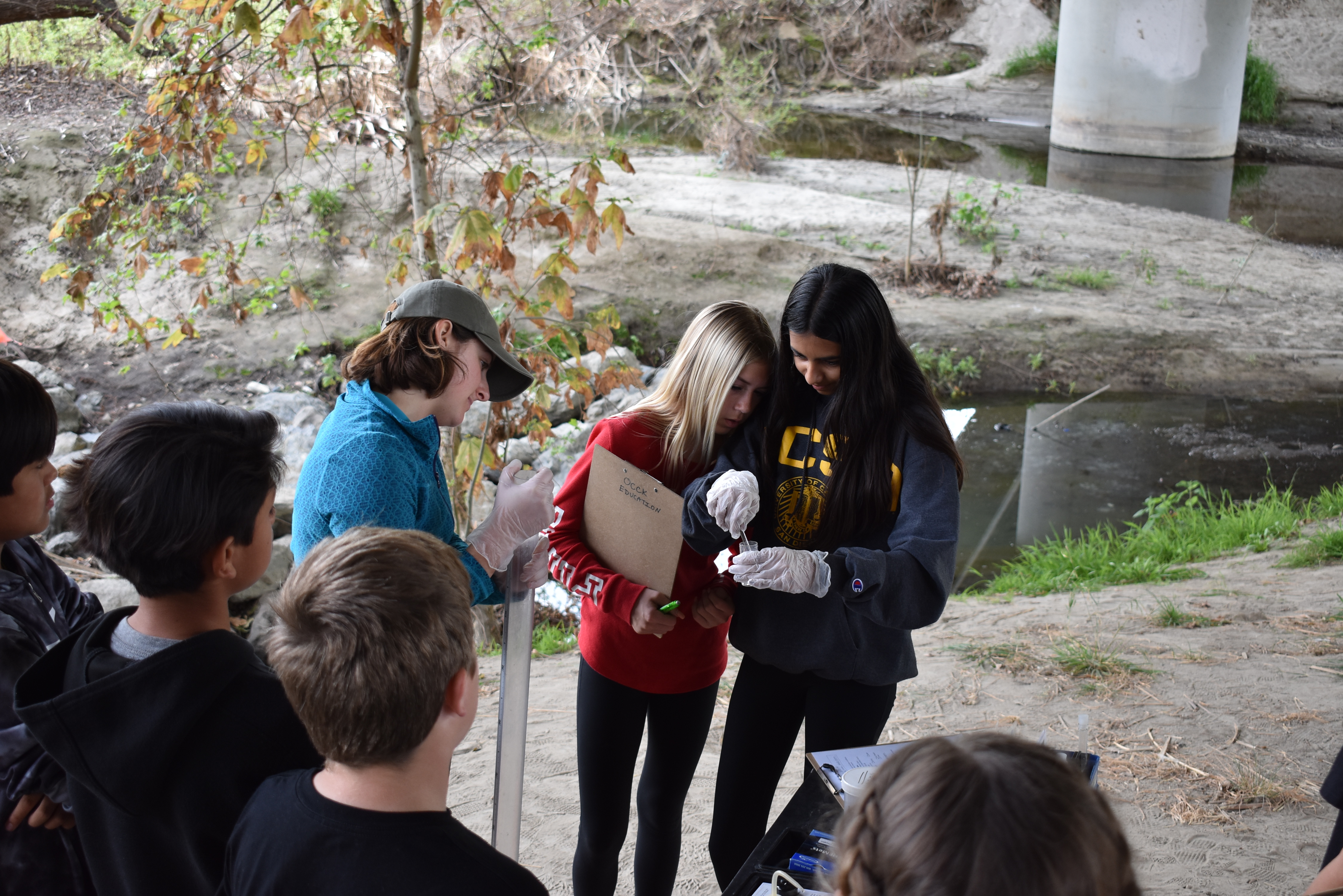 Class presentations introduced students to watersheds and how they collect both household wastewater and storm water runoff, which are then drained out into the ocean. Moulton Niguel experts also taught students about the importance of efficient outdoor water use and repairing leaks to prevent urban runoff from polluting the watershed.
On the field trip, students of Aliso Viejo Middle School were joined by class chaperones, teachers, Moulton Niguel Staff and Board Members, and OC Coastkeeper team members to visit their local watershed in the Aliso Creek. Students were able to see first-hand where the water from their sinks and toilets ends up collecting and the polluted state it is in, due to contamination by urban and storm water runoff. After collecting water samples, the students conducted their own water quality experiments, testing for substances such as nitrates and sulfates in the water. This type of hands-on water education empowers students to manage their water use at an early age, while learning about the importance of water efficiency, sustainability, and protecting the environment.
Helping the Next Generation Learn about Future Water Issues
The water education program with OC Coastkeeper is a new addition to the District's ongoing education and outreach programs and is yet another way we are proactively providing education on an array of water issues.
The District has several other educational programs focusing on water efficiency, water quality, and watershed health. We are currently working with the Municipal Water District of Orange County to provide elementary and high school water education programming free of charge to all schools in our service area. We also provide water education training and NGSS-aligned curriculum to educators for free through the Project WET program. Additionally, we welcome our local students and community members to tour our facilities and experience first-hand how we provide a safe and reliable water supply to our communities.
Interested in Signing Up for the OC Coastkeeper Program? Check Out the Program Details Below!
Program Details:
Open to all middle school classes in the Moulton Niguel Water District service area
Funding covers the in-class presentation, field trips, and busing to and from a local watershed and creek.
Each field trip can accommodate 40 students, but can accommodate for larger groups over multiple days
The program is funded by Moulton Niguel Water District and administered by OC Coastkeeper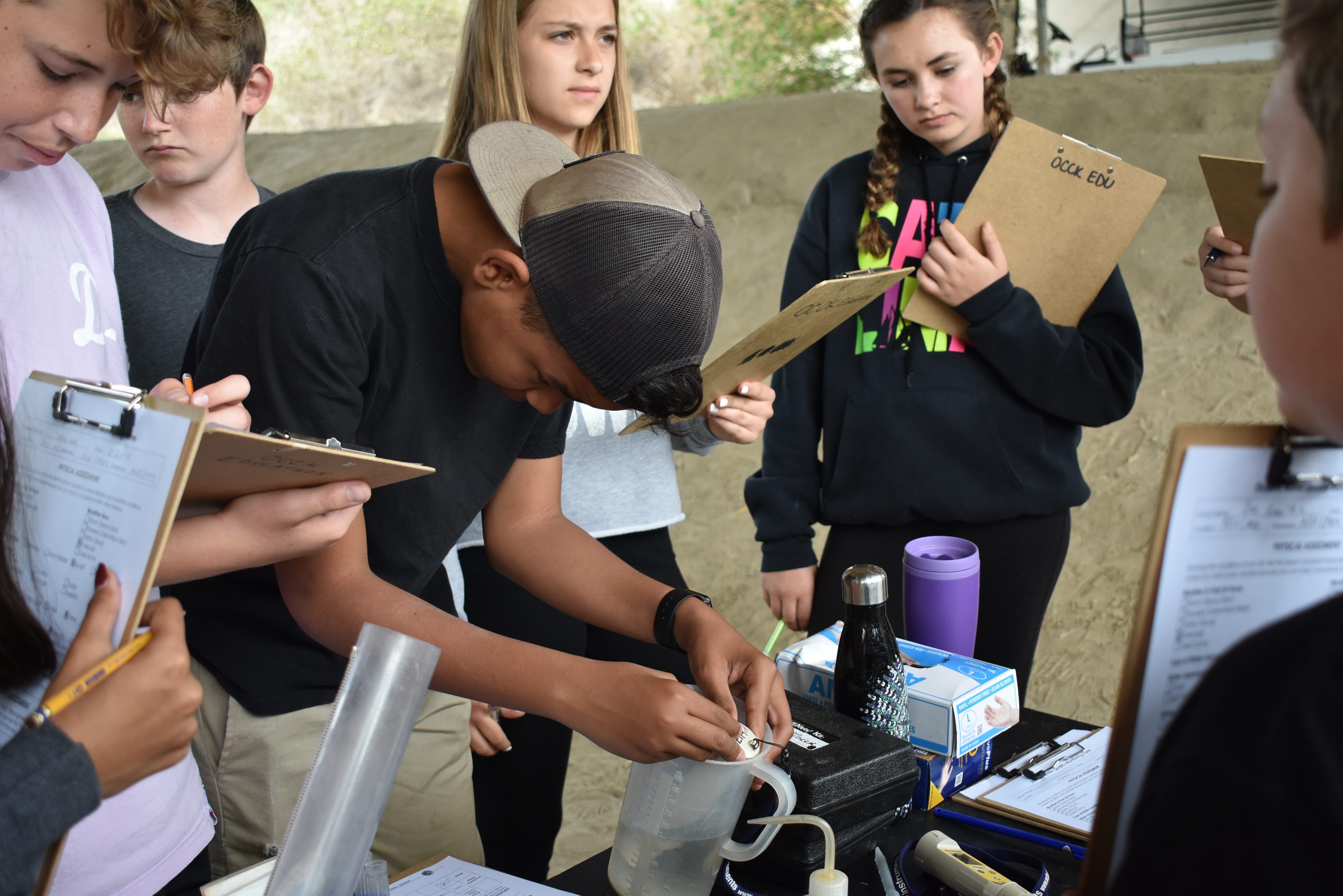 Each Class Will Receive:
In-Class Presentation discussing their local watershed, urban runoff, water conservation, global sustainability, and watershed function and health. Additionally, students will learn about the District's water budget-based rate structure and how it can be used as a tool to indicate whether a household is over-watering their landscape. Students will learn how over-watering contributes to dry-weather runoff, which carries pollutants into storm drains and eventually into local creeks and beaches.
Two Field Trips:

Exploring Your Watershed: Field trip entails a guided hike at a local trail with a naturalist. Location Options: Salt Creek Trail, Aliso Creek Trail, and San Juan Creek Trail
Water Quality Testing: Field trip entails a water quality lesson and tests at a local water body.
Sign Me Up!
Teachers or school administrators who are interested in participating should complete the following survey: http://bit.ly/MNWDCoastkeeper
For more information about the organizations' collective efforts to provide water education and protect our natural resources, visit Moulton Niguel Water District at mnwd.com/education and the Orange County Coastkeeper at www.coastkeeper.org.