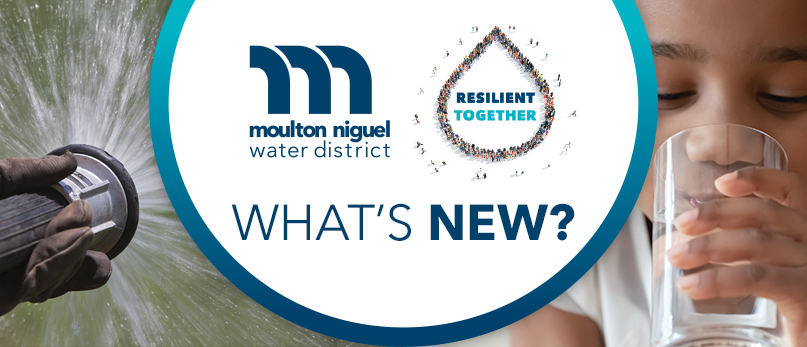 MOULTON NIGUEL ASSISTS OC FIREFIGHTERS IN COASTAL FIRE RESPONSE
Moulton Niguel Water District extends our gratitude and sincere appreciation to the incredible firefighters, support staff and public safety personnel at the Orange County Fire Authority, Orange County Sheriff's Department, the City of Laguna Niguel, and other agencies that responded to the fire.

Moulton Niguel Water District assisted Orange County firefighters in responding to last month's devastating Coastal Fire in Laguna Niguel.

Thanks to quick actions by staff and customers, ongoing investments in our water infrastructure, and extensive emergency planning, Moulton Niguel was able to direct water supplies where it was most needed to help local firefighters combat the flames.

The District would like to thank our Laguna Niguel customers for taking steps to conserve water and shut off potable irrigation during the fire. Your actions allowed us to ensure there was sufficient water to contain and fight the fire. Please accept our deepest appreciation for your steps to support the District and local firefighting efforts.
As part of its long-term planning, Moulton Niguel will continue to identify ways to upgrade its water delivery infrastructure and make further investments in maintaining its emergency preparedness.
WATER QUALITY REPORT: MOULTON NIGUEL DELIVERING SAFE, CLEAN RELIABLE WATER
For another year in a row, Moulton Niguel's drinking water continues to meet all federal and state quality standards.
Every year, water providers throughout California are required to publish a report in accordance with drinking water quality standards set by the United States Environmental Protection Agency and the State Water Resources Control Board, Division of Drinking Water.
Moulton Niguel Water District is committed to testing, protecting, and delivering high-quality water to every home, school, and business in our service area. We are pleased to report that the drinking water provided to our 170,000 customers meets the standards required by state and federal regulatory agencies.
Moulton Niguel's Water Quality Report and additional water supply information can be found on our website at www.mnwd.com/ccr.
MOULTON NIGUEL HOSTS SECOND
IN-PERSON NATURESCAPE GARDEN TOUR
Thank you to everyone who attended our second in-person NatureScape Garden Tour in May! We welcomed over 800 customers and community members to join us for a self-guided journey through some of South Orange County's most inspiring drought resilient NatureScape gardens! Each garden featured watershed-friendly landscape elements, beautiful California native plants, and an education station to provide customers with information about building healthy watersheds, the benefits of California native plants, and what the district and customers are doing to develop sustainable solutions now to address future water challenges. Enjoy the NatureScape Garden Tour recap video below!
FREE IN-PERSON IRRIGATION WORKSHOPS OFFERED THIS SUMMER
We are excited to announce our in-person irrigation workshops are back!
With California in its third consecutive year of drought, now more than ever, it's important to take control of your sprinkler timer and tune up your sprinklers.
Our FREE interactive irrigation classes are designed to help customers identify and resolve common irrigation issues, avoid over-watering in the hot summer months, and learn about monthly water budgets.
Be sure to mark your calendars for the upcoming Irrigation Workshops scheduled for:
To register for the event visit mnwd.com/irrigation classes or call (949) 448-4025. Registration is required and light snacks will be provided.
MOULTON NIGUEL BOARD OF DIRECTORS
President Brian S. Probolsky
Vice President Duane D. Cave
Vice President Donald R. Froelich
Director Richard S. "Dick" Fiore
Director William "Bill" Moorhead
Director Diane Rifkin
Director Sherry Wanninger