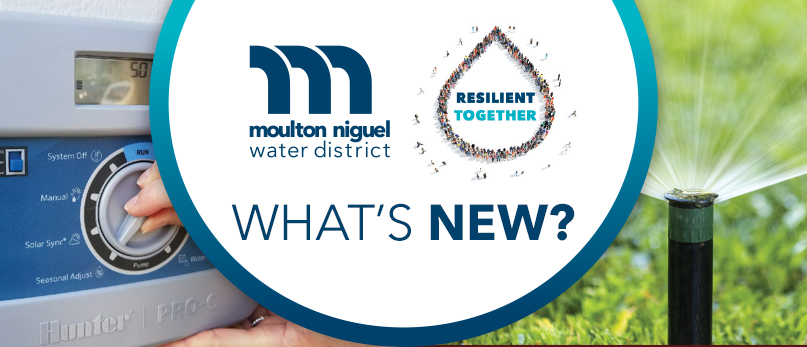 JULY IS SMART IRRIGATION MONTH:


USE WATER WISELY
As California faces the driest three-year sequence on record, it is important for us to recognize July as Smart Irrigation Month. Historically, there has been an increase in outdoor water use during the month of July. We all need to do our part to keep using water wisely.

Did you know as much as 50% of the water used outdoors is wasted from inefficient watering methods and systems? Moulton Niguel has a variety of programs and resources available to help customers take action to use water efficiently. Here are 4 effective ways you can reduce your outdoor watering and only use what you need.
ADJUST YOUR WATERING TIMES
Water no more than 3 times a week, between 8 p.m. and 8 a.m., for no more than 8 minutes per station. Try 2 cycles at 4 minutes each for best results.
UPGRADE TO A SMART WEATHER BASED IRRIGATION CONTROLLER
Smart Controllers use information about your plants, soil, and weather conditions to apply the right amount of water year-round. Rebates of up to $330 per controller are available. Visit mnwd.com/rebates for more information.
USE WATER-EFFICIENT SPRINKLERS AND NOZZLES
These are designed to produce larger drops of water or streams that resist wind, prevent evaporation and reduce overwatering. Rebates of up to $6 per nozzle are available. Visit mnwd.com/rebates for more information.
Visit mnwd.com/conservation for more tips and resources to help you do your part to use water efficiently.
CONSERVATION TIP FROM YOUR NEIGHBOR!
I am a long time Moulton Niguel customer. I have a single family house, nice garden and yard. I hand water my lawn and garden twice per week at 7 a.m. on Tuesday and Friday. This way there is no over-watering, water runoff on the curb or sidewalk and lower expenses. You only need a hose and nozzle. You also get more exercise and that is good!
We LOVE hearing from our customers! Share YOUR water efficiency efforts with us! Email

outreach@mnwd.com

if you would like to be featured in our future marketing materials.
NEED HELP EVALUATING YOUR WATER USE? SIGN UP FOR A FREE HOME SAVINGS SURVEY!
Did you know that Moulton Niguel's Water Efficiency team will visit your home, review your outdoor watering practices, and recommend easy ways to save water and money — for free?! In-person visits only take about 45 minutes and during the visit our water efficiency experts will:
Run your irrigation system to look for leaks, misaligned sprinkler heads and areas of ponding and/or runoff
Check your irrigation controller and recommend a watering schedule based on your landscape
Discuss your indoor water use and provide toilet dye tabs for easy toilet leak diagnosis
Moulton Niguel also has an online troubleshooting guide with easy to follow, step-by-step instructions to help customers identify if they may have a leak or other unintended use of water, visit mnwd.com/troubleshooting-guide for more information.
MOULTON NIGUEL BOARD OF DIRECTORS
President Brian S. Probolsky
Vice President Duane D. Cave
Vice President Donald R. Froelich
Director Richard S. "Dick" Fiore
Director William "Bill" Moorhead
Director Diane Rifkin
Director Sherry Wanninger