The rainy season is upon us, but California remains in an extreme drought. The past three years have been California's driest on record and little, if any, drought relief is forecasted for this year. The Colorado River, one of Southern California's primary drinking water sources, is at its lowest level on record. Snowpack levels also struggle to meet California's water needs. As we enter this new water year, major reservoirs are currently below historical averages. State water officials have enacted water conservation emergency regulations, including a voluntary 15 percent water use
reduction order. At Moulton Niguel, we appreciate our customers' efforts to use water wisely, and we ask that you continue to be diligent in these efforts. Together, we are resilient.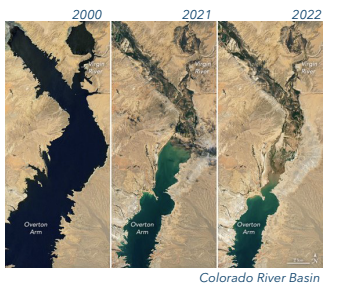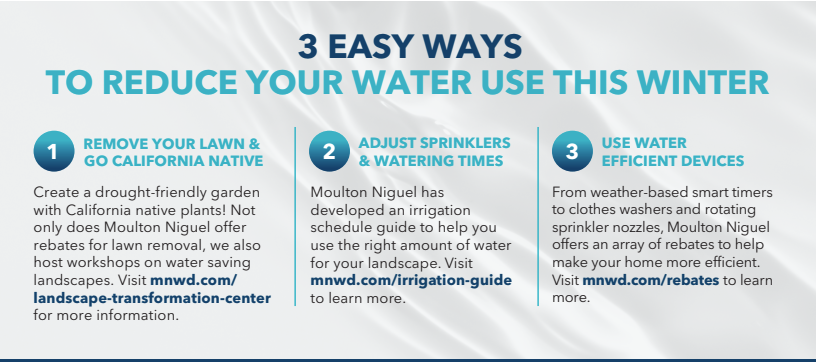 NOT SURE HOW YOU CAN SAVE WATER OUTDOORS? LET US HELP YOU!
Our Water Efficiency experts are available to visit your home, review your outdoor watering practices, and recommend easy ways to save water and money. The visit is FREE and only takes about 45 minutes. During the visit our Water Efficiency experts will: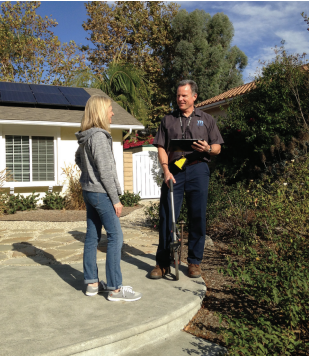 NEED HELP UNDERSTANDING YOUR WATER BILL? WE CAN HELP!
Ever wondered what all the numbers, bar charts, and graphs mean on your water bill? Our goal is to provide you with superior customer service by ensuring you have all the information you need, so we developed our first ever "Read My Bill and Access MyWater Customer Portal" Workshop
being held on January 17, 2023 from 6:30p.m. – 8:00p.m. Moulton Niguel staff
experts will go over the following information during the workshop:
Please note you must bring your smart phone, laptop, or tablet to participate in the
workshop. Light snacks and beverages will be provided.
Sign Up for the "Read My Bill and Access MyWater Customer Portal" Workshop by
visiting mnwd.com/workshops .
###