Moulton Niguel Water District Receives Technology Innovation Award
By California Water News Daily on June 8, 2019
South Orange County's Moulton Niguel Water District (MNWD) is continuing its quest for excellence in many areas including customer service, innovation and environmental/economic and has been honored for these achievements. Most recently, MNWD was honored by Government Technology, an ATT&T program, as part of its 2019 Special Districts Program.
The Government Technology award recognized MNWD for its online customer portal, MyWater MNWD within its Technology Innovation Citizens category. This category recognizes special districts that have utilized technology to improve service delivery to citizens. The category also spotlights special districts who continually enhance the user's experience, accelerate access to services, and improve overall service to the customers they serve.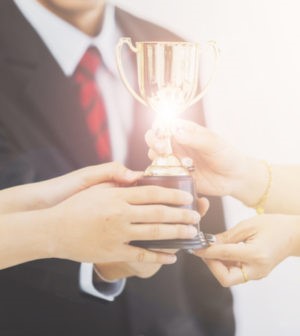 Available 24/7, the water district's MyWater MNWD was first launched two years ago.  The interactive site encourages customers to take control of their water usage decisions — viewing and paying their bill, reviewing water usage trends, accessing money-saving water rebates, learning about conservation programs, and enrolling in paperless billing. Since MyWater MNWD debuted in 2017, more than 45 percent of MNWD's customers have enrolled in the portal.
"We're incredibly honored to accept this award and will continue to find new ways to serve our customers," said Moulton Niguel President Brian Probolsky. "Moulton Niguel is committed to developing cost-effective tools and technologies that improve service and save our customers money."
MNWD provides high-quality drinking water, recycled water and wastewater treatment services for its customers in Aliso Viejo, Laguna Niguel, Laguna Hills, Mission Viejo, San Juan Capistrano and Dana Point. The district has also garnered three other awards in recent months.
In January MNWD was awarded the state's highest environmental and economic honor for its efforts to protect local creeks, watersheds, and beaches from pollution, and for doing so in the most cost-effective manner. The District was one of only ten entities in the state to receive the 2018 Governor's Environmental and Economic Leadership Award (GEELA). In selecting Moulton Niguel for this honor, the California Environmental Protection Agency (CEPA) praised the MNWD's leadership for forming a public-private partnership to combat urban runoff through shared data, open communication, environmental education and public outreach.
Moulton Niguel also received two other awards last year. Last fall, Amazon honored MNWD for best practices in cloud innovation – the only water district in the world to receive such recognition. The agency was also been recognized in spring 2018 by the WaterNow Alliance with its Impact Award for accelerating innovative and sustainable water solutions.
Additionally, in 2017, MNWD was honored with the Association of California Cities – Orange County's "Golden Hub of Innovation Award" for using water data tools to save customers nearly $20 million in recycled water costs.
"In everything that we do, our customers come first," said Moulton Niguel Director Duane Cave. "We want to make it easy for our customers to interact with their water district."